Artist Profile
            Often seen around the streets of Brighton, Etienne's work stands out as your brain tries to absorb the multiple vanishing points and seemingly endless detail on detail. Etienne produces large street murals as well as smaller framed pieces with nice line work and Manga / Sci-fi overtones.
Managing to finally catch the busy bee, I get him to let us in on his personal creative world.
"I'm a self-taught artist." he informs me. "I'd always been into comics as a kid, especially 2000AD and other less mainstream comics as opposed to superheroes. I'd also always been into drawing but only for my own pleasure and not for public consumption as I wasn't really that good at it.
Following a degree in Biology he met a friend who he subsequently ended up living with and started producing designs for his punk band's posters, flyers and t-shirts. From here he took drawing a lot more seriously and endeavoured to improve his drawing skills going on to produce posters for one of the local venues in Bristol and self-publishing 'fan-zines' of his work. At the end of the summer of 1998 he decided to move from Bristol to Cornwall to teach himself how to draw 'properly' and spent six years drawing all day everyday.
"Having traveled around a bit," he continues, "I moved to Brighton where I have continued self-publishing, culminating in an A3 coffee table edition of my work and many large scale murals around Brighton, initially all done in marker pens, paint brushes and 'Tippex', but more recently large scale paste-ups. I've exhibited successfully and continue try to improve my skills by pushing myself as hard as I can both technically and in the issues addressed in my work. More recently following breaking my hand, which made it impossible to draw, I have taught myself how to make pop-up books."
The Biology degree he did had a big influence on his work in terms of the attention to detail in all the aspects covered on the course. In terms of artists that have influenced Etienne the most, Geof Darrow (Hard Boiled) is a strong contender. "I was blown away by his work when I was a teenager. Some of, if not the most, detailed artwork ever to appear in comics." he tells me. "Ian Miller has been another big influence, again incredibly detailed work, but also really quite dark and unnerving. His draughtsmanship is incredible. I also have the privilege of calling him a friend. Katsuhiro Otomo (Akira) is also an influence, again in terms of detail but also in his sense of world building, storytelling and mechanical design. The artists on 2000AD of the early 80's have also been a huge influence."
Pen and ink (including brushes) are definitely his prefered mediums. "I do use Photoshop but I try to limit my use of it in an attempt to try to keep my work 'traditional' (I use it more for after effects on fully inked pieces)."
More recently he has developed a passion for paper-engineering which he unexpectedly fell in love with after breaking his hand. "It's great to work in a medium so completely different to anything I'd done before and after all the drawing is done, it does something else altogether!"
I ask Etienne about the topics in his work. I personally like Etienne's mechanical design, medical imagery, inventive camera angles and optical feedback.
"It all depends on the picture in question. Some of my pictures have a strong environmental theme running through them, which is an issue I feel strongly about, such as my picture of the reaching, screaming figure emerging from the junkyard or my surfer riding the tube of hypodermics. Other pieces cover more socio-political issues and imbalance in society, for example the piece in my book with the colour butterflies which was a snap shot of society back then as I saw it."
More recently my 'Metropolis' piece is a cross section view of the stratas of society highlighting how the people at the bottom are so far removed from those at the top. Violence plays a part in my work but I don't try to use it gratuitously, more often with a sense of humour or if it will enhance the feel of the image. Although some pieces are quite graphically violent in their nature, some of my pieces are also quite abstract conceptualisations, but they fit together in the piece as a whole and for me the composition of a piece is the most important element."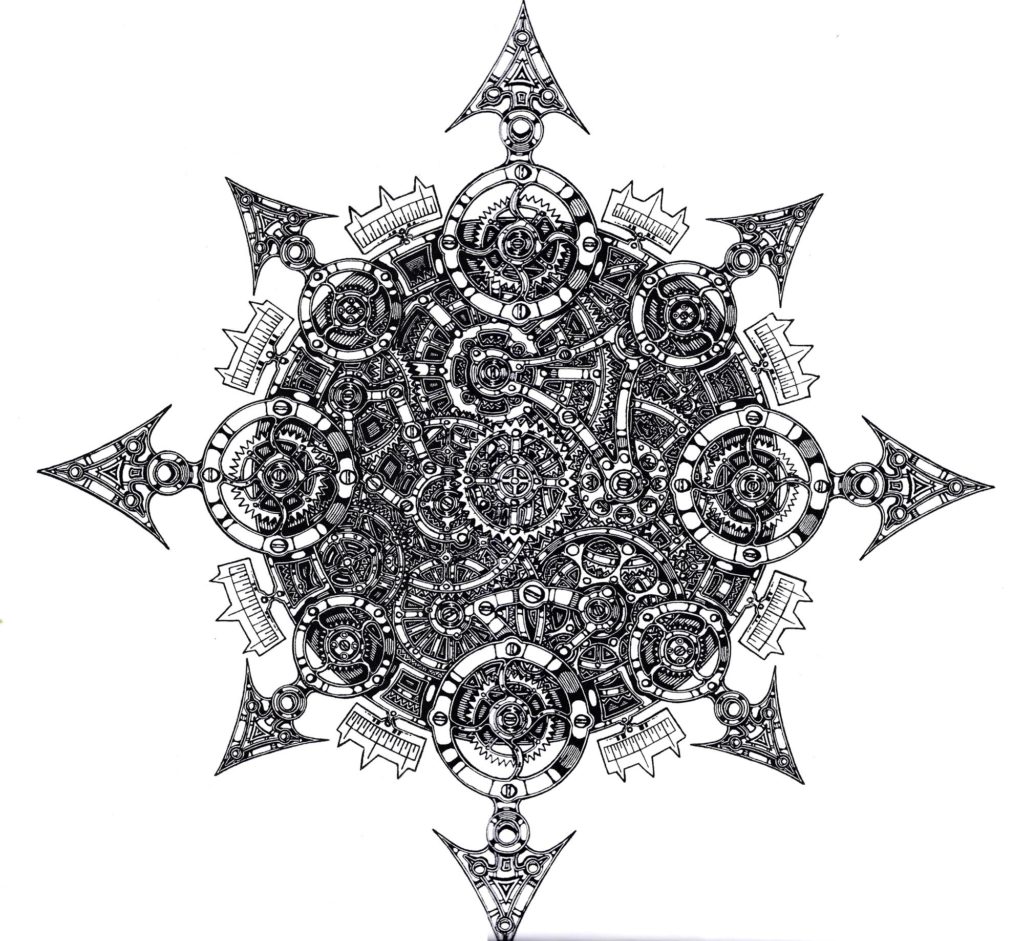 Being creative is a great way of staying sane, but sometimes it's a lot of hard work and finding the motivation can be exhausting. I quiz Etienne on his motivation tactics.
"My main motivation is that I just love drawing and being creative. I'm also always trying to push myself in what I love to do. There are some A3 pieces that have taken ten weeks, some of the pop-ups have taken twelve, some of the big murals even longer. I do sometimes wonder what I've let myself in for when I've started some pieces but the only way to get them finished is to sit down and do the work, though drawing through the small hours can be really quite meditative."
Although the world can be a bit of a downer now and then Etienne prefers to stay positive, aiming for the opportunity to live off of his art instead of having to fund his creative lifestyle with part time work. He is pursuing two different publishing deals, one for the pop-up book he has designed and the other being a collection of 2D illustrations so expect to see new publications in the near future. His work is currently for sale on his website along with more information.
For even more images and information check out Etienne's work on: